About Ledbetter Insurance Agency, LLC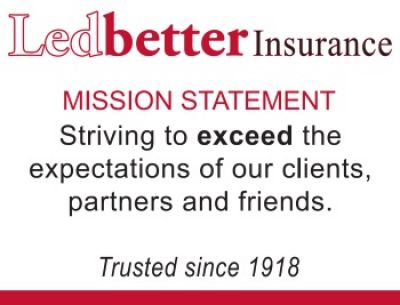 The Ledbetter Insurance Agency, LLC is one of the most experienced insurance firms in Oklahoma City. Established in 1918, serving some of America's finest businesses, professionals and families. Our team of dedicated, licensed professionals are focused on the needs of our clients. This team represents the full array of property and casualty insurance carriers. Their knowledge and experience have earned the trust of many small and large firms throughout Oklahoma and the nation.

It is with a heavy heart that we morn the passing of our President, friend and mentor, E.R. "Bud" Ledbetter, Jr. Bud passed in February in 2007 leaving behind an extraordinary legacy through his perpetuation of this agency and his many endowments to his educational interests and the arts. He will be honored in our memories.

Our Sales Team:

Greg Moore - President - Greg is very proud of being raised in Canton which is in northwest Oklahoma. He has followed his career in the footsteps of his mother who also ran an insurance agency in Canton. He joined Ledbetter in 1978 while finishing his degree in Business, Management and Marketing at the University of Central Oklahoma.

He completed the Insurance Institute of America studies at the University of Central Oklahoma, February 1980. He next earned the designation of Certified Insurance Counselor (CIC) in September 1981. He completes 20 hours of continuing education each year to update his CIC.

Greg served the boards of Professional Insurance Agents of Oklahoma (PIA) and Independent Insurance Agents of Oklahoma (IIAO) for 8 years. He served as Vice President and later as President of the PIA and was instrumental in helping the 2 associations merge in 1991. He received the award Professional Agent of the Year in 1991.

Greg is an active member of New Covenant united Methodist Church having served in several capacities of leadership and enjoys the choir as well. He has been involved in the Bible Study Fellowship for the past 4 years. He is also an active member of the Downtown Oklahoma City Lions Club. Greg has been married to Debbie since 1973 and has 2 sons.

Bruce Chadick - Vice President - Mr. Chadick entered the insurance industry in 1992. After working as an executive for several insurance companies on a national level, it became obvious that his unique talents and experience would be a natural resource for the clients of the Ledbetter Insurance Agency, LLC. Mr. Chadick joined the Ledbetter Team in 2003 and obtained his Certified Insurance Counselors (CIC) designation in 2004 and Certified Risk Manager (CRM) in 2007.

In joining our agency, he has committed himself to leveraging all possible technological resources to benefit the customers and partners of Ledbetter Insurance Agency, LLC. and has championed our online resources. Commitment, knowledge and professionalism are the foundations of our service to you.

Mark Holland - Vice President- Started his insurance career in 1982 and received his Certified Insurance Counselor's designation in 1984. He was also one of the first five people in Oklahoma to receive the distinguished Certified Risk Managers designation in 2001.

A native Oklahoman Mark has always been active in supporting his community this service has included city wide chairman for the United Way Campaign (Midwest City), district co-chairman for the Boy Scouts of America, 10 years service on the Tinker YMCA board of directors and 5 years of service on the Edmond YMCA council and capital campaign committee. Mark was recognized as volunteer of the year once by each of these two YMCA branches in different years. He served 20 years with Rotary International holding all club offices including Club President and two times Assistant District Governor and recognized as the Rotarian of the year in two different years. He is also a charter class graduate of Leadership Midwest City.

Currently Mark is servicing on the board of directors of the American Subcontractors Association and the Advisory Board of the Association of General Contractors. This commitment to the industries he serves makes him highly qualified to provide the best possible advice to professional in these industries.

Allan Piatt - Account Executive - Allan began his insurance career in 1969 with Farmers Insurance Group in Edmond, Oklahoma.

A native Oklahoma, Allan has served fellow Oklahomans for 41 years in providing their insurance needs. Allan is an active member of First Baptist Church of Edmond and is a member of the men's quartet, Men of Victory.

Since 1992 Allan has served on the Board of Directors for the Edmond Sportsmen's Club (ESC) and as Chairman of Leasing Committee. His expertise in contracting land owners and knowledge in evaluating hunting land has been highly recognized by ESC and their membership.

Allan joined the Ledbetter Insurance Agency, LLC. in 1986 and has committed himself to finding resources to benefit customers and partners of Ledbetter.

Kayla Holley- Account Executive- Ms. Holley began working with Ledbetter in January of 2014. Born and raised in Oklahoma City, Oklahoma she has a unique hometown advantage.

In conjunction with joining our agency, she is working to obtain continued insurance education. Initially earning her Certified Insurance Service Representative (CISR) and in route to receive her Certified Insurance Counselors (CIC).

Kayla has actively served our agency on the Character First Leadership team, building team work and improving communication. Ms. Holley's work ethic is a direct asset to integrity and commitment we have to our clients, agency, and carries.

Peta Trenary, Account Manager - Mrs. Trenary is a licensed health and life agent who has been in the industry for over 15 years. She is a passionate Account Manager who partners with and ensures the long-term success of our customers. Peta is the liaison between our many Insurance carriers and internal customer teams to ensure the timely and successful delivery of complete client care.

She has a BS in Marketing from the University of Central Oklahoma.
Customer Service Team:

Stacy Becker
Jo Ann Cobb
Kristi Dill
Grace Holley
Donna Long
Michele Pearson
Lori Shaw
Debbie Wooldridge